Tuesday, 24th October 2017
TOUR DIARY
This past September we were back on the road with THE PINEAPPLE THIEF! We visited a few new countries and cities as well as returning to some happy hunting grounds, and performing better than ever! With our new album 'Faced With Rage' being released on Friday October 13th, we were so excited to get out there again and start playing some of our new songs in order to give the gig-going public a little taste of what the new album has to offer. By all accounts I think we did a bang-up job!
Just like last time it was a real mission to actually get to the first gig! Once all our equipment was packed up in the back of the tour van we set off, driving across England to Folkestone where we caught the Channel Tunnel train into France. From there we drove on through Belgium and into Germany before finally coming to rest at a hotel for the night; we had been travelling all day but our first destination was still another 3 hours away! With a good night's sleep behind us we continued our journey the next morning, and upon finally arriving in Dresden we all blew a collective sigh of relief! The first venue was called 'Scheune' and it was a great place to start the tour; we performed in Dresden on the previous tour so we were hoping for a well-informed and friendly crowd to ease us back into our routine on this the first of eleven gigs in total. THE PINEAPPLE THIEF used all the sound check time they could to iron out the last of the kinks in their sound (which left little to no time for us!) but luckily everything was ready to go just as doors opened. When we finally hit the stage to open the show it definitely took a while for us to settle back in, but it was still a brilliant gig! Only the first show of the tour remember, so things could only get better!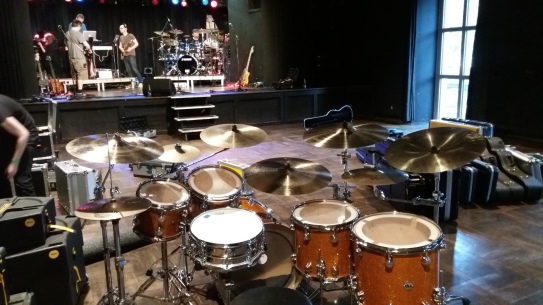 [Scheune, Dresden]
Another long drive awaited us the next day so we were all up bright and early to start our journey into Poland. This was our first ever visit to the country so we were really excited to show our wares in a new territory and hopefully gain some new fans! The first of two Polish venues on the tour was 'Progresja Music Zone' in Warsaw and it was massive! Without a doubt the biggest room we would play on the entire tour, but thankfully it turned out to be one of the most memorable shows of the entire tour too! We were feeling much more comfortable both on stage and off; finally sinking back into a routine and whilst enjoying the whole experience still keeping our focus solely on getting the best possible band performance on the night. As soon as we stepped out on stage, despite the big room and big audience in front of us, we all felt very relaxed and in turn the playing felt effortless. The Warsaw gig went great for both us and THE PINEAPPLE THIEF, and luckily we repeated that success at the second gig in Krakow the next day. Another awesome venue with probably the most spacious backstage area we've ever seen! The turnout at 'Klub Kwadrat' was excellent and we had another brilliant show with a very warm reception from the crowd. The Polish audiences were definitely very kind to us and we were so pleased that our first ever performances in the country were both big hits!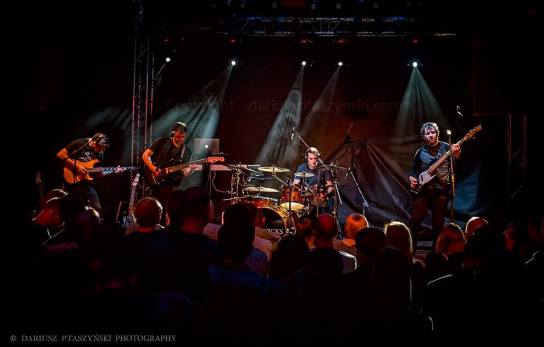 [Klub Kwadrat, Krakow]
Even though our van got pulled over by the police the next morning (so rock n' roll!), we eventually made it out of Poland and into the Czech Republic and our next venue, 'Melodka' in Brno. This venue was by far the smallest of the tour and with a very rundown exterior it didn't really look like a music venue, but as show time approached the atmosphere was electric! After sound check the band and crew sat down for a nice meal together (schnitzel and roast potatoes – delicious!) before the doors opened and it was time to get back to work again! We had another great show and great response from the crowd, but packing away after our set was probably the toughest part of all; there was only one small dressing room for the two bands and nowhere for us to pack away our equipment after we played, so we just had to do it right there in the dressing room as THE PINEAPPLE THIEF were getting ready to go on stage! But we're all good friends so it was no problem; they never fail to put on a stellar performance (probably because they have Darran on board - Haha!) From our point of view though our gigs were still getting better and better and the tour was going from strength to strength!
Next we were heading back into Germany to play at the 'Backstage Halle' in Munich. The venue is a big building in the middle of nowhere; surrounded with overgrown trees that practically camouflage the whole place with their branches. Another venue that again, from the outside at least, looks unassuming but takes on a life of its own when the bands come to play! At this point in the tour everything was running a lot more smoothly; sound-checks for example now took no time at all, so once we were done there was plenty of time to chill backstage. The place was absolutely packed come show time and we had a fantastic gig! It was hot, it was sweaty, but it was so much fun! That amazing audience definitely gave us a boost and the band was on fire!
Our next destination was Zurich in Switzerland; another first time visit for GODSTICKS! The venue was called 'Dynamo' and was situated right next to the River Limmat that runs through the heart of the city and into Lake Zurich; amazing scenery all around! Once everything was set up and ready to go we all sat down for dinner which came from… Domino's! That's right, we had a Domino's pizza takeaway in Switzerland and it was awesome! Also the dressing room we were given was on the upper floor overlooking the stage, so we could see the audience slowly growing bigger and bigger as we prepared to play. It was another fantastic gig; the band was on top form again and despite it being our first ever gig in Switzerland we had an amazing response from the crowd! Everyone was just feeling supremely relaxed and confident on stage and it helped us all get the best out of our individual performances.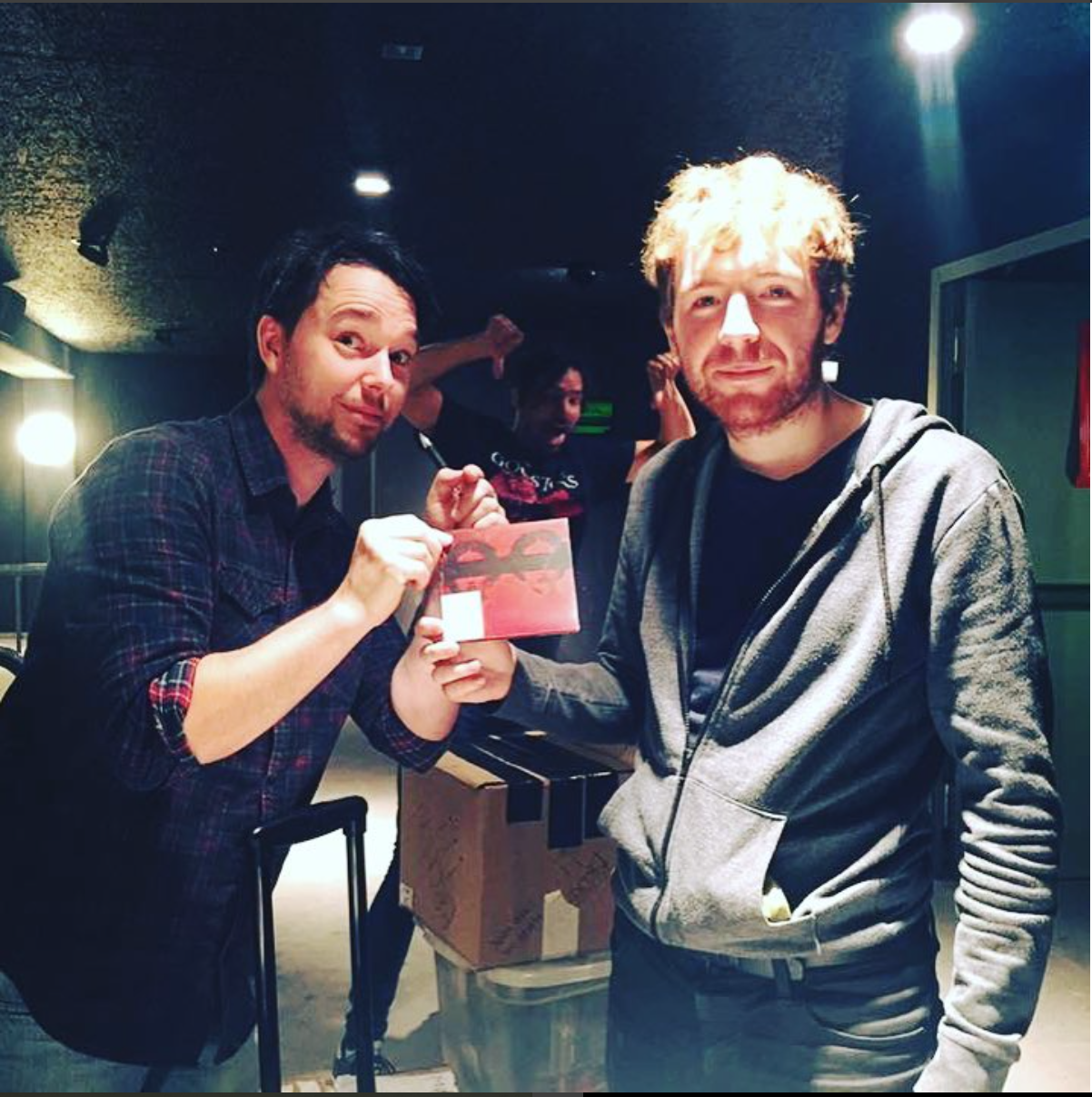 [Dan and Gavin (and Bruce Soord!) in Zurich]
We headed back into Germany once more for the next two shows; the venues would be slightly smaller, but the gigs would definitely be memorable! The first one, 'Universum' in Stuttgart, was an old converted subway station; an unusual layout for a music venue but it still had a great stage with great sound! The gig was really good and we had another excellent response from these always-appreciative German crowds. Most of the time a good performance on stage also translates into good GODSTICKS merch sales as well, and it's such a huge boost for us when we see people spending their hard-earned cash on a CD or T-shirt. It's also so gratifying to see that our music is resonating with them just as much as the headline band's! The next gig was the last German show of the tour, but man was it a great send-off! We were playing the 'Luxor' in Cologne and it was sold out! The place was packed just as we started to play, but by the time THE PINEAPPLE THIEF hit the stage you simply couldn't move in there; it was rammed! It was another very good gig for us, even though Darran had a bit of trouble with the wireless pack for his in-ear monitors. Technology can be a pain sometimes, but even little things like this can't stop us giving 100% at every gig!
Our last stop in continental Europe was Zoetermeer in the Netherlands, where we were playing 'De Boerderij'. This is a fantastic venue; the old GODSTICKS line up played there back in 2014 so the new guys in the band were very excited to play there for the first time. It has everything you look for in a top-flight venue; a massive stage with ample floor space and balcony seating for the audience, plus a very nice backstage and very warm hospitality. The food provided was particularly excellent too! After sound check we were all treated to a delicious chicken fajita meal in the small café just outside the main venue (vegetarian for Darran and Rhiannon!), and as we ate together we gazed wide-eyed at all the amazing framed photos on the walls featuring artists who have played this venue over the years; it reads as a 'who's who' of international rock and metal bands. I doubt a photo of us will be going on the wall anytime soon, but all this inspiration definitely stirred up something within us; we simply couldn't wait to get on stage and play! When it was finally time to go on, we were greeted by an incredible sight; both floors of the room were absolutely filled with people! That image will undoubtedly be etched in our minds for a long time to come! The gig was excellent; a brilliant performance and one of the highlights of the tour so far!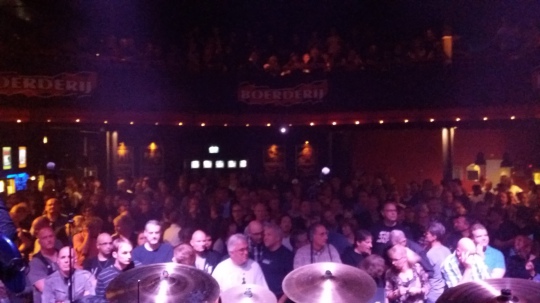 [De Boerderij, Zoetermeer]
The following day we were on the road back to blighty! We travelled out of Holland, through Belgium and France towards the Channel Tunnel. As we went through border control Tom noticed the officer scanning his passport had a copy of 'Classic Rock' magazine at his desk; he clocked all of us straight away and correctly deduced that we were a band. He asked the name and after Tom told him he said: "I know you guys! You're in 'Prog' Magazine this month!". Definitely the strangest place we've ever met a fan! Soon we were back on the road and once we reached our hotel near Heathrow airport we could finally relax and unwind. There was no gig that night so we all went out for a meal in a nearby pub instead; believe me, a nice chilled evening like that is well deserved after you've played 9 shows and travelled thousands of miles without a day off! Anyway, we were all feeling much more refreshed the next day and ready to tackle these final two gigs of the tour. Next stop was 'Student Central'; the University of London union hall and it's a really cool venue. A nice big stage and room with balcony seating, although the dressing rooms were deep down in the basement; they were probably next to the boiler or something too because it was absolutely roasting in there! We arrived at the venue pretty early so set up and sound check was very relaxed.
Now that we were in a more familiar territory the band decided to treat ourselves to what is undoubtedly the pre and post-gig food of choice – noodles! We had Wok to Walk for lunch and Wagamamas for dinner! But as we chomped away at our teriyaki soba, tickets for the show were still being snapped up by eager punters until it was finally sold out, and just like in Zoetermeer a few days ago we were greeted by another incredible sight as we stepped out on stage! It was an absolute blinder of a gig; another first-rate band performance and by far the best audience reaction of the whole tour! The cheers before songs and the applause after them was louder than ever, and it felt like we didn't actually have to win the crowd over this time; they were already on our side! We had so many people come up to us at the merch table afterwards and buy an album or a T-shirt and we were inundated with lovely comments and messages on social media; it was so great to feel the love from our home country again! Both London shows on our two tours with THE PINEAPPLE THIEF have proven to be real water-shed moments for us, and with all the buzz around our new album 'Faced With Rage' it has inspired us to keep dreaming big!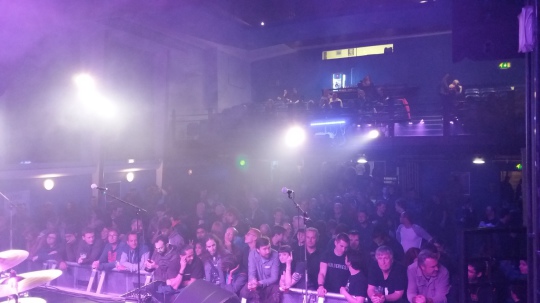 [ULU, London]
Now there was just one more show left, in a place that's become very familiar to us. Not only have we played there before, but in the weeks leading up to the tour it was also the location for both a photo and video shoot. The 'Bierkeller' in Bristol, it seems, is a jack-of-all-trades kind of venue and one that appears to be written into our band's DNA. It's only right that we finish the tour here! It was also a homecoming of sorts for us and THE PINEAPPLE THIEF; Bruce Soord lives in Somerset so was expecting a lot of family and friends at the gig, just as we were. This is the closest we've been to Wales for some time so we were also very excited to have some of our family and friends make the journey over the Severn Bridge to see us play. Unfortunately the traffic Gods had different ideas and a huge tail-back across said bridge meant that the Welsh contingent was severely delayed. We pushed back the start of our set as far as we could to try and compensate, but inevitably the show must go on. It was a shame to have to start playing as people we knew were still trying to make it to the venue, but all we could do was just get on that stage and play well; play well for them. The great crowd spurred us on and it was a still a brilliant show to end the tour on.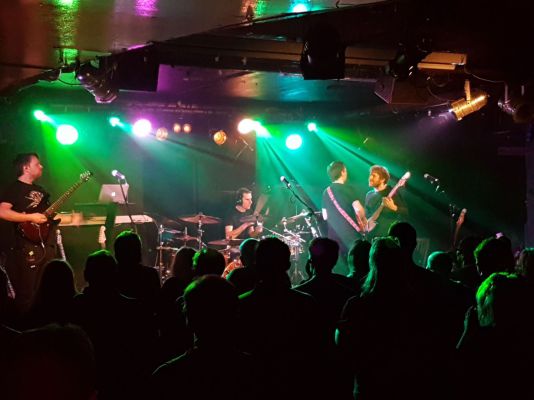 [Bierkeller, Bristol]
And so we went through our routine one last time; we came off stage, packed away everything and watched TPT do their thing before trying to sell as much GODSTICKS merch as possible! Thankfully we were experiencing record sales at these two U.K gigs so another big thank you must be given to everyone who came up to the merch table, chatted to us and showed their support. Soon it was time to load up the vans and say our goodbyes, bringing to an end another incredible tour. Having spent so much time together our touring family was closer than ever before; we had just as much if not more fun on this tour than the last!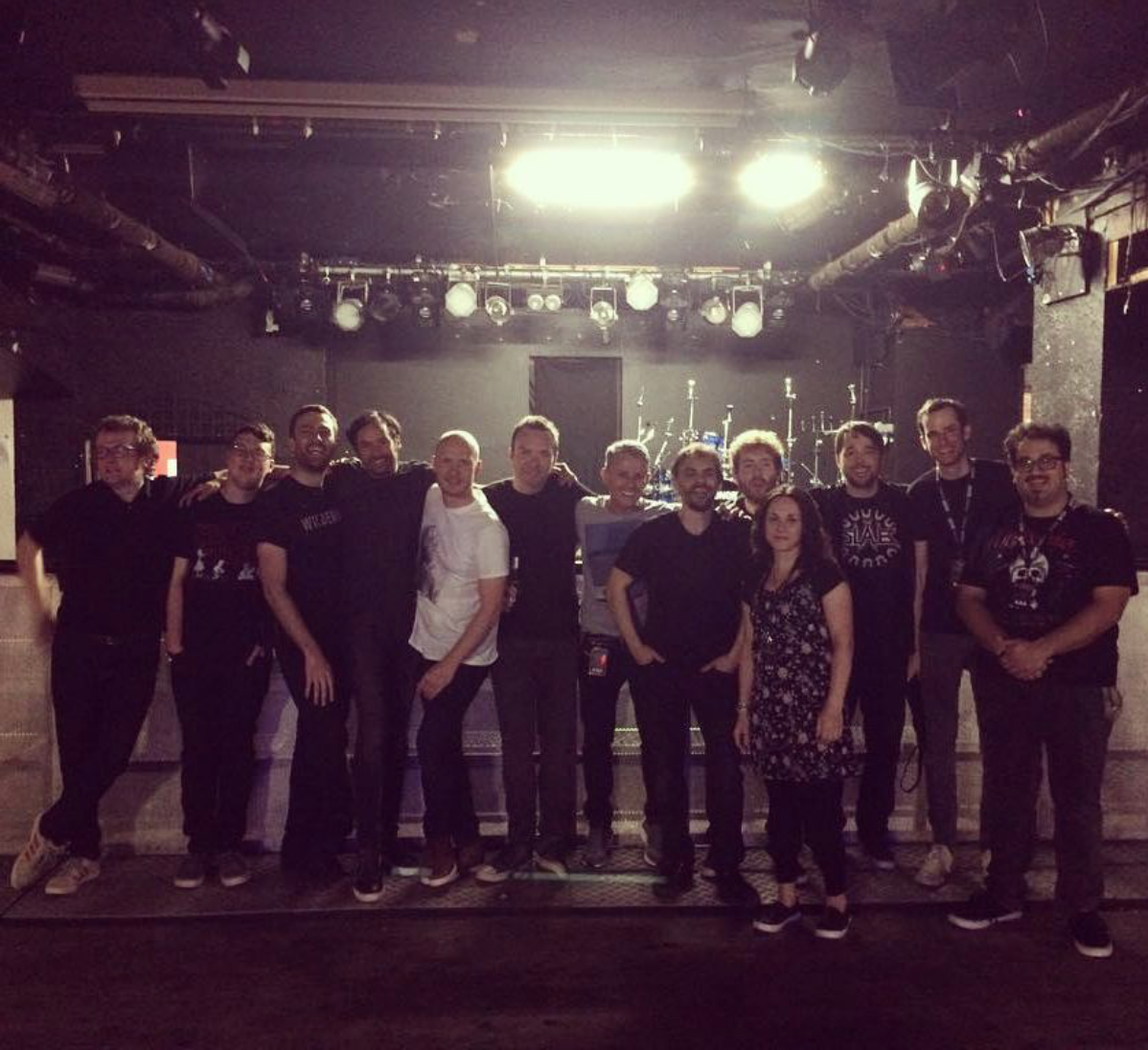 [Godsticks, The Pineapple Thief and Crew]
But after an amazing and unforgettable 1st leg we were just so grateful to have had the chance to live it all again. Our heartfelt thanks go out to THE PINEAPPLE THIEF and Gavin Harrison; our amazing tour manager Rhiannon Jenkins plus our fantastic crew Simon Baxter, Marco Musco, Hayden Borgars and Chris Bicknell; as well as every single venue we played and every single person who came to see us play! Don't forget, our new album 'Faced With Rage' is out now so if you haven't already, please check it out! Hopefully we'll see you all on the road again very soon…
TOUR DIARY

After months of preparation and rehearsal Godsticks went on tour through January and February. We had the opportunity to support an amazing Prog band called The Pineapple Thief on a 2-week tour around Europe, and of course all of us were dead excited! Here was our chance to perform in different countries like Germany, Holland, France and The Czech Republic, and in loads of big venues in front of big audiences, but most importantly of all it was a chance for us to get our name out there and impress. We would also be playing three shows in the U.K after a break of a few days, culminating in an already sold-out performance at Islington Assembly Hall in London. Plus, the fact that we would be touring with Gavin Harrison of Porcupine Tree and King Crimson fame, who was TPT's guest drummer for these shows, only added to the excitement!
It all began on Thursday January 19th. Dan, Gavin and Tom loaded up our hire van and hit the road, picking up Darran and tour manager Rhiannon along the way. We caught the Channel Tunnel train into France and drove on through Belgium, before finally coming to rest at our hotel in Haarlem, Netherlands. The Pineapple Thief who were travelling in their own van arrived just before us, so now our touring family was complete; the Godsticks people plus Bruce, Jon, Steve and Gavin H of TPT as well as their crew, Chris the guitar tech, Heleen the lighting tech, Simon the sound man and Marco (affectionately known as Mr. Panda) the drum tech. That night we all ate together in the hotel restaurant, chatting about the journey and getting to know one another. It was next to a bowling alley (that's right, the hotel had a bowling alley!) and the atmosphere was so cool. Here we all were, ready to embark on an epic journey together!
The first gig of the tour came the following night; we played 'Patronaat' in the centre of Haarlem, just outside Amsterdam. It was one of the most incredible venues we've ever played in! Everything was immaculate and it had all the facilities you could wish for; nice big dressing rooms with plenty of drinks and snacks, plus a little kitchen where we could prepare lunch. And the stage was insane! It probably wasn't ideal that the very first show of the tour was going to be played in the venue with the biggest capacity, but there's nothing we can do about that; it's just the way the cookie crumbles! Sound check was a bit of a rush because TPT had to make sure everything was working correctly, but once our equipment was set up on that stage those first-show nerves quickly turned into excitement; we were here and it was finally all about to begin! The gig went very well and we got a great response from the audience!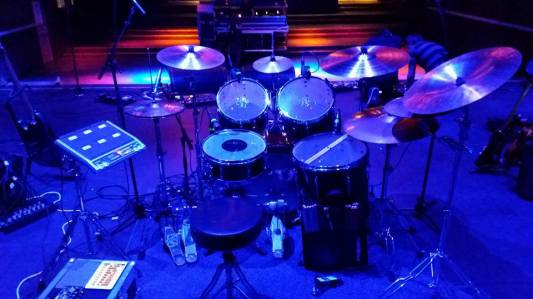 The next two shows were also in the Netherlands; 'De Pul' in Uden and 'Hedon' in Zwolle. Both of these venues were immaculate as well; they really know how to make 'em here! Another two fantastic turnouts meant that Godsticks were playing to their biggest audiences ever, but by the end of the third gig we were all feeling a lot more relaxed on stage. Darran was working incredibly hard on this tour because as well as performing with us, he was also performing with The Pineapple Thief as second guitarist. That's right, he played TWO sets every single night; what a legend! After the shows Dan, Gavin and Tom would always go out to the merch table to help Rhiannon and meet the fans. Most of the people there were seeing Godsticks for the first time so it was great to meet new people and chat with them. When you see them digging the music and taking the time to wish you well or buy one of your CD's, it's always a great confidence boost and a reminder to stick to your guns; you're obviously doing something right!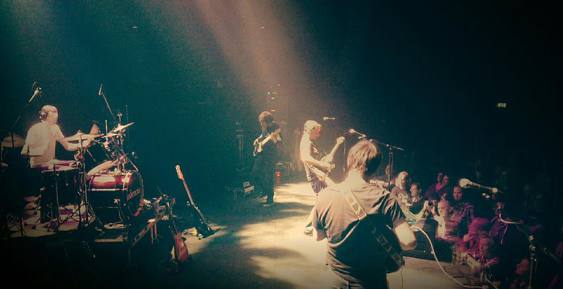 We had one more gig booked in the Netherlands towards the end of the tour, but now it was time to hit Germany! Crossing between the two countries took a full day's travel time, but at least it was broken up with several stops at the motorway services. They're pretty much the same as the ones in the U.K, but the food is a lot more German! We also highly recommend those peanut-flavoured crisps called "Flippies"; you can find them at every stop! When we finally arrived at our hotel in Aschaffenburg we had a bit of time to relax in our rooms before the promoter of the German shows came along to take us all out for dinner! We went to an Italian restaurant opposite the hotel and it was a great way to finish a very long day. Being a proud Italian himself, Panda was on hand to educate us on all the best ways to cook various Italian dishes, and upon inspecting all our meals, to tell us how he could've done them better! Luckily we would get the chance to sample some of Mr. Panda's culinary delights a little later in the tour, but for now, it was time to rest.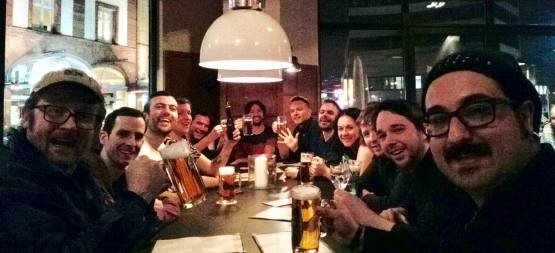 A run of three shows in Germany began the next day. Immediately we noticed a big difference between the Dutch and German venues; everything wasn't quite as pristine and polished as it was in Holland, but every single German venue had its own unique charm. The rooms in most cases may have been smaller but the atmosphere was always electric! Feeling much more rested after our relaxed evening we couldn't wait to play 'Colos-Saal' in the centre of Aschaffenburg; it was completely packed and despite Gavin's guitar cutting out during 'Exit Stage Right' we still had a great reaction from the crowd! Our merch takings were very good that night; a few people even asked us for signatures and photographs! The next night we played at 'Zentrum Altenburg' in Oberhausen; basically a big warehouse with a stage at one end! Thankfully we were treated to another awesome crowd and it definitely felt like we were performing at our very best. This continued into the next gig at the 'Frannz Club' in Berlin. Sound check ran smoothly thanks to Simon's hard work, giving us plenty of time to have a meal and prepare for the show. Even though it was one of the smallest places we would play on the tour, it was unquestionably one of the band's best performances. Everyone was just feeling good on stage and totally in the moment. Neil Peart of Rush always says that when you're on tour you're searching for something he calls "the magic show"; that one gig when everything is flowing and the audience lifts the band up to new heights. Right there and then we knew we'd found our first "magic show", but would there be more?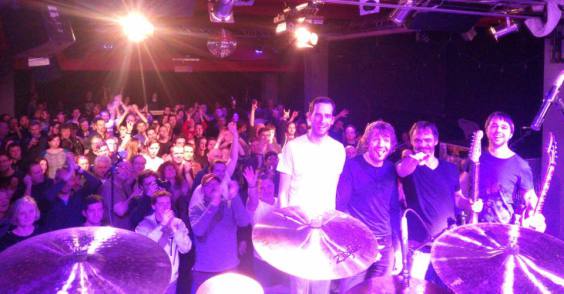 To find out, we went to the Czech Republic! Our next gig was at the 'Futurum Music Bar' in Prague and a very early start was needed to make sure we arrived on time. For much of our first week in Europe the weather was always wintery; driving through Holland and Germany we saw plenty of picturesque snow-covered fields and villages. Then things went to the extreme as we crossed into the Czech Republic; the cold had become bitter and unbearable while the snow on the hills seemed much deeper! Prague itself had somehow managed to avoid the worst of the January weather so we arrived there in good spirits. It was a very nice venue with a big backstage area and friendly staff, so we could relax and warm up pretty quickly. Despite it being the first time both The Pineapple Thief and Godsticks have visited this country there was a very good turnout, which was another great confidence boost. The band put on another very good performance and we had a great time, but unfortunately it wasn't all plain sailing. I guess it's inevitably that someone will get sick on tour, and sadly it was poor Tom who bit the dust first. There may have also been a little accident involving Darran, one of our vans and a concerete-encrusted plant pot, but we'll gloss over that one!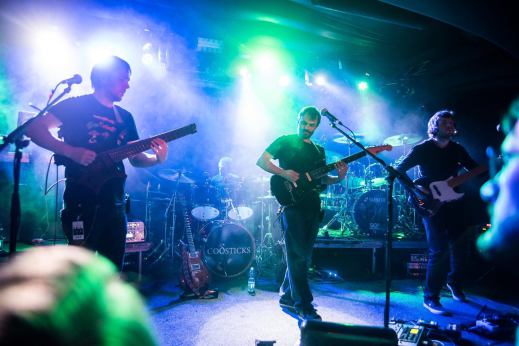 Tom definitely wasn't 100% the following morning (and Darran definitely had egg on his face too!) but we all pressed on, heading back into Germany for two more shows. First stop was 'Tante JU' in Dresden; the venue was nice and big so we were very excited to play. Panda cooked us all some delicious risotto in the little kitchenette backstage as soon as sound check was over and his wholesome home-made food seemed to cure Tom instantly! Now the band was firing on all cylinders again and it turned out to be a very good gig! We headed to Hamburg the next day to play at 'Knust'; another pretty small venue but come show time it was absolutely packed! Looking out from the stage there were people as far as the eye could see; definitely a sight to remember and the energy from that big crowd carried us through to another excellent performance!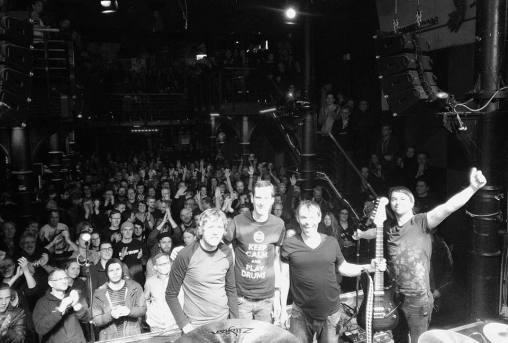 There was no gig to worry about the next day, just another big journey out of Germany and back into the Netherlands. It seemed never-ending, mile after mile after mile of endless tarmac, but when we finally arrived at our hotel in Maastricht it was straight down to the restaurant for food, then straight up to the room for bed! Thankfully there was plenty of time to sleep in the next morning as the day's venue, 'Muziekgieterij', was only a stone's throw away from the hotel. It was another big converted warehouse like that other place in Germany, but it definitely didn't lack any of the attention-to-detail that we saw in all the other Dutch places. After a very long sound check we were treated to an amazing meal backstage before retiring to our very nice dressing rooms. Usually the last moments before a show are spent warming yourself up and mentally physicking yourself up to perform, but that night some of us were a little distracted; there was a Nintendo 64 in one of the dressing rooms! We got a few rounds of Mario Kart in before finally snapping out of it! Anyway, we got a great response from the crowd and left the stage believing it to have been one of our best performances of the tour! Now there was only one show remaining in Europe, but as luck (or fate) would have it, the best was saved for last.
We travelled out of Holland first thing the next morning, bound for Paris. Driving through the city centre was absolutely mental; there were cars everywhere and their drivers seemed to have no regard for what you'd think would be normal traffic laws! Several hair-raising moments later we arrived at our venue 'Le Divan du Monde'; an old Parisian burlesque theatre. It was very dark and dusty but nevertheless it looked stunning; we simply couldn't wait to play and finish this part of the tour with a bang! Come show time the floor and the balcony were absolutely rammed and while we waited in the wings, the atmosphere just kept building and building. As soon as we took our first steps onto the stage the crowd starting cheering; keep in mind we are just the support band here so that was a bit of a surprise! Immediately we knew that this was going to be a very special night! We launched into our set and all of us could feel just how far we've come in these last two weeks. Over the course of this tour we have progressed massively as a band, growing tighter both on and off the stage; we started off finding our feet during those first few shows but as each one passed us by we were gradually building confidence. By now we were all bursting with energy on stage and totally at one with our music; it felt so utterly joyous to play. The crowd reaction was amazing and everyone agrees that that night in Paris was Godsticks' best performance of the tour by far; another "magic show"! What an incredible way to finish our first European tour with the new line-up; a sold-out gig in one of the most beautiful and amazing venues we've ever been lucky enough to play in. We couldn't have asked for more!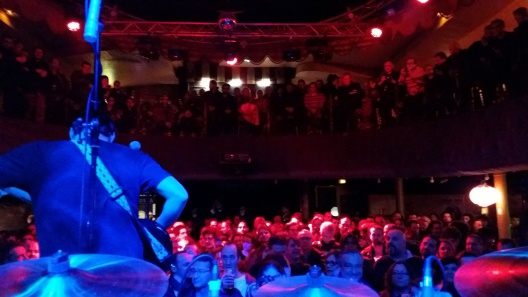 But this was only part one! Our touring family would reconvene in Glasgow after some downtime to start our run of U.K shows. The break was very welcome and after a long journey out of France, back through the Channel Tunnel and on to Wales, it was so nice to finally be home again surrounded by family and friends. However our minds were still firmly focused on the remaining gigs, hoping that in terms of performance level we could pick up exactly where we left off! Anyway, once the small matter of an 8+ hour van journey was dealt with we finally made it to Scotland! We were playing the 'O2 ABC2'; one of those venues where there are two (or sometimes three) stages in one building. As you might have guessed from the title we were on the smaller of the two stages, but that didn't stop us from having a great gig! It felt so great to be back on tour and performing to another new audience; they were loud and boisterous but they really loved the music! Also our prayers had been answered; despite the break Godsticks were instantly back on top form and we were very happy (plus a tiny bit relieved!) to still be feeling comfortable on the big stages and performing at our best.
The following day it was back in the van and off to Manchester for the next gig. 'Sound Control' was our destination; a cool venue nestled down a side street in the city centre. The stage was a good size and we were looking forward to the gig but unfortunately we had some technical issues to contend with. So far on this tour we'd been pretty lucky; no major problems with our wireless units and in-ear monitor system apart from that one loss-of-guitar in Germany. But apparently this venue is notorious for causing all sorts of mischief with new music technology! There was loads of interference and an almighty buzz coming through all our ears as we tried to play, supposedly caused by close proximity to train lines. This was very annoying for both Godsticks and The Pineapple Thief, but we all ploughed on and still had a very good night performing in front of another sold-out crowd. Also a pre-gig takeaway from Domino's was surprisingly helpful at relieving our worries! Anyway, we had reached the home stretch; just one more show left to play and then sadly it would all be over.
We left Manchester the next morning bound for London and our date with destiny at 'Islington Assembly Hall'. Gavin and Tom swapped over to the TPT van for this journey, meaning they could have a nice long chat with Gavin Harrison. They heard loads of funny tour stories from the Porcupine Tree days, and as you can imagine Tom was relishing the chance to talk drums with him! It was a real honour to tour with Gavin Harrison; as well as being an immensely talented musician, he's still a down-to-earth and friendly guy. He was always quick to offer us advice and encouragement all through the tour and we are all so grateful for it. Anyway, when we arrived at the venue we were all blown away; it was even more beautiful than we'd imagined! Incredible stage, massive floor with balcony seating above, everything decorated and finished with such class and distinction; without a doubt one of the most amazing venues we have ever been to! All our gear was set up in a flash because we were so excited to get on but Godsticks had to wait a little before sound checking; The Pineapple Thief were making a live DVD of this show, so every precious moment they had to set everything up and fine-tune it ready for show-time was so valuable. When we finally finished checking all our stuff there was very little time for a pre-show meal but Dan, Gavin, Panda and Tom were determined to visit what is surely Godsticks' favourite restaurant; Wagamama's! Full credit must be given to the staff at the Angel/Islington branch; we arrived, ordered, ate our food and paid the bill in the space of 45 minutes despite it being a busy Saturday night! Power-walking back to the venue must have been hard thanks to a stomach full of steak noodles but the boys returned with plenty of time to warm up and prepare.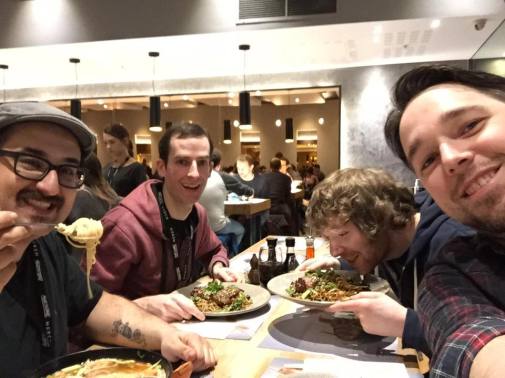 We patiently waited in the wings, occasionally peering out at the audience. Despite the enormity of this last gig we were determined to treat it just like any other, drawing on all the experience we have mustered and things we have learned from this amazing tour. Godsticks hit the stage and everything just felt right; we were in front of the biggest audience we've ever played to as a band but we still performed with all the drive and energy we had been building up over the tour. Just like in Paris over a week earlier, our goal was to finish on a high and make this the peak performance; the one where we rose to the occasion and showed the people what this new Godsticks sound is all about. Thankfully, it was an amazing gig! Every single one of us put everything we had into our performance and hearing the roaring cheers from the crowd in return was just incredible. Playing in that venue, on that stage, in front of that audience; it was just about the most awesome feeling in the world! After the last song, we posed for one last crowd shot and left the stage to triumphant applause. The Godsticks Facebook and Twitter pages suddenly exploded with praise and nice comments from the audience members, providing instant confirmation that yes, that was indeed the best gig we've ever done and another "magic show"! Perhaps it will also prove to be the most important gig we've ever played; there were plenty of big-wigs in the room to watch us and as a result, the future's looking very bright for Godsticks.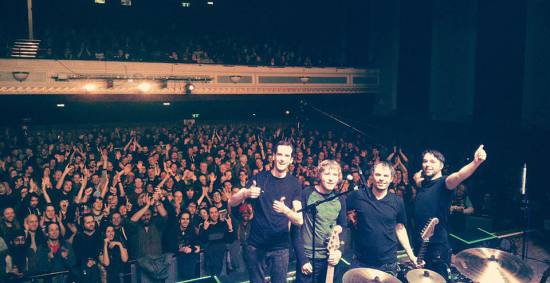 The Pineapple Thief did their show and it was a huge success; they are a fantastic band and thoroughly deserve everything they have been working so hard to build. And with Gavin Harrison on board they have now risen to a whole new level and become one of the top progressive rock bands in the U.K, if not the world. But for us, all that was left to do now was to attend the after-party (that's right, there actually was one!). We rubbed shoulders with friends old and new, with soft drinks and party snacks in hand (very rock n' roll!), but soon it was time to say our goodbyes and head back to the hotel. Our moods were very ambivalent the next morning; as we sat in the restaurant of the hotel having breakfast we were feeling sad because it was all coming to an end, but happy because it happened. We're so lucky to have been a part of this tour with The Pineapple Thief and to have all these amazing gigs and experiences to look back on. We are all in this together and the whole band worked so hard to make the whole experience a memorable one (as well as profitable) both on and off the stage. It really was one of the most amazing and unforgettable times of our lives, and let's hope there will be more on the cards soon!
 
---
Friday, 23rd December 2016
Hi folks! 
As we near the end of the year we look forward to a super busy 2017 with lots of exciting news. Firstly, we are really excited to be performing our crazy music across Europe, as we join our good friends 'The Pineapple Thief' on their 'Your Wilderness Tour'. We'll be sharing the whole experience with you via our social media sites, including backstage antics and our quest for perfect coffee and food places. So you'll be with us every step of the way. You can find us at: 
Twitter: @Godsticks 
Facebook:
https://www.facebook.com/godsticks/
Instagram: @godsticksmusic 
We know you've been waiting a while for this, but now we are happy to announce the wait is finally over. We have a new t-shirt design currently in production. Initially they will only be available on the tour, but later on they will be available through our online shop:
http://godsticks.co.uk/shop
Something else we are eager to share with you fine people on this tour will be a debut of a BRAND NEW SONG! We are super pleased with this track and we hope you'll like it too. I know lots of our European friends have been looking forward to this tour and we can promise you that this is going to be one you won't want to miss. Here are all the dates and places you can catch us: 
Jan 20: Haarlem Patronaat, Netherlands 
Jan 21: Uden De Pul, Netherlands
Jan 22: Zwolle Hedon, Netherlands
Jan 24: Aschaffenburg Colos Saal, Germany
Jan 25: Oberhausen Eisenlager, Germany
Jan 26: Berlin Frannz Club, Germany
Jan 27: Prague Futurum Music Bar, Czech Republic
Jan 28: Dresden Tante Ju, Germany
Jan 29: Hamburg Knust, Germany
Jan 31: Maastricht Muziekgieterij, Netherlands
Feb 01: Paris Le Divan Du Monde, France
Feb 09: Glasgow ABC2, UK
Feb 10: Manchester Sound Control UK
Feb 11: London Islington Assembly Hall, UK - SOLD OUT
Also! Just a reminder that 'Emergence' has now been officially released by Kscope and available everywhere, including here:
https://www.burningshed.com/store/kscope/product/272/7910/
Big thanks to everyone who's bought it so far and we look forward to seeing you on the road. 
Darran, Dan, Gavin and Tom   
---
Tuesday, 12th January 2016
Happy New Year!
Hope you all had a good winter break, but now it's time to look forward to all the great gigs you'll be going to in 2016. If you live in Wales, or nearby, then it would be great to see you at one of our upcoming headline gigs. We'll be playing in Llanelli on the 29th January and in Cardiff (with Hunted) on the 11th March. Best of all, both gigs are free entry. For full details just head on over to our website:
www.godsticks.co.uk/gigs
Also, you may have noticed on our Facebook page yesterday the announcement that we'll be supporting the fantastic Dutch metal band, 'Textures'. They have a new album coming out in February and are undertaking a European tour to promote it. Godsticks were lucky enough to be included on the bill in London, and if you're interested in attending tickets can be purchased here:
www.theunderworldcamden.co.uk/gigs
We ended 2015 on a high note by supporting our friends, the virtuoso supergroup The Aristocrats, in Birmingham at the O2 Institute and Bristol at the Bierkeller. The new line-up, which includes guitarist Gavin Bushell and drummer Tom Price, is working very well and we were grateful for such an enthusiastic response from the audience. It can be tough being the support band but they made us feel very welcome! It's loads of fun playing the new material, from our album Emergence, and we can't wait to get started again.
We'll also soon be unveiling a new t-shirt design, based on the Emergence artwork.
Over the next few weeks we hope to be able to announce some more gigs around the U.K. and in mainland Europe, so keep a lookout for another newsletter or check us out on social media:
https://www.facebook.com/godsticks/
https://twitter.com/Godsticks
https://www.instagram.com/godsticksmusic/
Thanks for all your support
Darran, Dan, Gavin and Tom 
---
Friday, 4th September 2015
It's finally release day!
Thanks to everyone who pre-ordered Emergence, it's truly appreciated and we hope you enjoy it.  For those who would like to buy it, CDs and downloads are available from our 
shop
, or you can download from 
Bandcamp
 if that's your preference.  We'll also be unveiling a new t-shirt design soon.
We've been delighted by the press reaction to our new album, here are a few of our favourite quotes:

Emergence is a rare thing – an album of technically astounding prog-metal replete with hooks and melodies [Total Guitar Magazine]

A mighty tour de force of tip-top riffery [Guitarist Magazine]
A truly captivating album far ahead of some of the more predictable prog-metal releases [Prog Magazine]
From the disturbing cover art...to the unity of the music and words, 'Emergence' is an arresting all round package [Powerplay Magazine]
Dark and muscular prog heaviness from one of the UK's most idiosyncratic rock bands [Metal Hammer]
Cleverly crafted ear-candy and daring lead guitar work [Guitar and Bass Magazine]
We can't wait to play these tracks live, it's going to be a high energy performance from us this autumn.  Please see our 
gigs page
 for a list of upcoming shows, and more will be added over the coming weeks.
Darran, Dan and Gavin 
---
Friday, 17th July 2015
Hello!
We're pretty excited to release the second video from our forthcoming album, 
Emergence
.  Filmed in various locations in deepest darkest Sheffield, England this is the single edit of the opening track of the new album called 'Below the Belt'.  The album version is actually a little longer, featuring a heavy and intense instrumental section.  You can watch it on our 
Facebook page
, or on YouTube at: 
https://youtu.be/jkVNXQxv_IM
This particular song is actually one of the most challenging songs we've written, and it took many, many different forms during the *gulp* almost 12 months it took to write - that's how long it took to finally nail the groove we were looking for.  Anyway, this is one of our favourite tracks from the new album!  Let us know what you think by commenting on YouTube or Facebook.
If you want to be one of the first people to receive your copy of 
Emergence
, then you can pre-order at 
www.godsticks.co.uk/shop
.  All pre-ordered CDs will be signed by the band and will include: a free digital version of the album and remixes of two tracks by Bruce Soord from The Pineapple Thief, available for download on the release date [4th September 2015].  A few reviews of 
Emergence
 have already been published, and we're very grateful for the positive reaction.
In other news, we will be supporting Tony MacAlpine on part of his European tour this autumn!  In addition to two dates in the U.K., we will also be playing shows in Germany, France, Italy and Spain.  For full details and ticket links just head on over to our website at: 
www.godsticks.co.uk/gigs
.  Prior to the Tony MacAlpine tour, we'll be playing our new material at a few shows in and around South Wales - including Geckgo Festival on the 23rd August, an extreme sports festival set in the heart of the Welsh countryside.
That's all for now, hope to see you at a show somewhere in the near future!
Darran, Steve and Dan 
---
Monday, 4th May 2015
Hello!  Long time no speak!
We're pleased and excited to finally be able to announce the release of our 3
rd
studio album, titled
Emergence
; 10 brand new tracks that continue where
The Envisage Conundrum
left off - exploring the heavier side of our musical style. 
Following our European tour supporting '
The Aristocrats'
in early 2014 we set to work writing and recording the new album (although a few songs had been written before then, including 'Much Sinister' which was included in our set during that tour).  Although there seemed to be plenty of our signature style throughout the newer material, we began to notice that the guitar was becoming the driving force on each song and that the song-writing had naturally developed to accommodate this.  It was also fair to say that the live work continued to have an overarching influence on writing - the more we played live, the heavier our sound seemed to get. 
For
Emergence
, we made a conscious effort to only select songs that helped maintain a stylistically consistent theme throughout.  The original premise of Godsticks - to try and ensure a song remains interesting from start to finish - is hopefully still intact, but
Emergence
signifies a milestone in the evolution of our writing style. 
Track Listing
1. Below The Belt
2. Ruin
3. Much Sinister
4. Exit Stage Right
5. All That Remains
6. Hopeless Situation
7. One Percent
8. Emergence
9. Leave Or Be Left
10. Lack Of Scrutiny
 
A great deal of research was spent on how to achieve the sound we had in mind for the album.  Arguably the drum sound was the most important and we ended up recording them at Monnow Valley Studio in November 2014.  Their incredible and historic live room provided the perfect foundation for the layered heaviness that would follow.
The new album also marked the first time we worked with a different producer as we brought on board James Loughrey, known for his work with Rock acts such as Skindred.  It proved the right decision as the mixing process and final mastering proved unusually straightforward and hitch-free (for Godsticks!) and we achieved the exact sound we wanted.
Finally, a huge chunk of time was exhausted seeking out artwork to compliment the darker tone of the new music, but we finally stumbled upon the work of Eric Lacombe whose melancholic, grungy art immediately caught our attention.  We urge you to check out some of Eric's other work – it's definitely eye-catching and unnerving.
So without further ado, check out the brand new video for
'Much Sinister'
, filmed by Chris Vinnicombe at various locations during the recording of our album.  A full 'behind the scenes' video on the making of the album will be released in a few weeks time, so stay tuned!
Pre-sale copies of the CD are available now through the band's online store at
www.godsticks.co.uk/shop
.  All pre-sale copies will be signed and accompanied by:
a free digital version of the album, and
remixes of two tracks by Bruce Soord (The Pineapple Thief)
We can't wait for you to hear the album!  Thanks for your ongoing support.
Darran, Steve and Dan 
---
Tuesday, 20th January 2015
Wednesday, 30th April 2014
Monday, 4th November 2013
Thursday, 15th August 2013
Godsticks/Mike Keneally Tour Diary - Part 2
Godsticks/Mike Keneally Tour Diary - Part 1
Sunday, January 13th, 2013